Kevin Magnussen gives it MAX gas in Roskilde!
Every once in a while, something special happens and it all comes together. In this case, it consisted of 1 piece McLaren Formula 1 driver named Kevin Magnussen, 1 pc. McLaren 650S and 1pc. high-speed urban rail in Roskilde.
The man behind the big event is former racing driver Thorkild Thyrring. He's great at attracting a lot of exciting supercars to this fantastic biennial event. So hopefully it will be held again in 2016.
The name of the charity event is Racing Festival, which pretty much sums up what it's all about – a weekend with lots of cool cars and plenty of co-driver rides.
The 2-day charity event supports the Danish Red Cross.
As a fan of Formula 1 and Danish Kevin Magnussen, I couldn't ignore the opportunity to have a co-driver ride with him. Having seen him race around various international Formula 1 circuits on the TV screen, it was special to see him racing around on Danish soil in a bright orange McLaren 650S.
The car, a McLaren 650S (S = spider, meaning it's a convertible version), has a whopping 650 horsepower.
It can accelerate from 0-100 km/h in just 3 seconds and it can accelerate from 0-200 km/h in just 8.6 seconds!
It has a top speed of 329 km/h.
But what happens when you put one of Denmark's best racing drivers behind the wheel of such a wild supercar?
The answer is very simple. It's going fast – REALLY fast!
As it's not every day that you get the opportunity to have a quick ride with a Formula 1 driver, well, you had to book a ride as soon as possible! I therefore buy a co-driver trip on Sundays.
I show the purchased ticket to a control person and then enter what I have chosen to call the "preparation area".
In the preparation area, you have to sign a paper stating that it is at your own risk and that you cannot sue them afterwards, etc.
This is quite normal during such events. Fortunately, the drivers and helpers will always do their best to make sure everything runs smoothly.
Once the paper is signed, you then need to find the correct helmet.
When I entered the preparation area, the very first thing I did was start up my Endomondo App. I was very curious if it happened to pick up the top speed. I started it up and put it in my pocket.
I then signed the paper and put on the correct helmet.
Then I walked a bit forward to a waiting point.
When wearing a helmet, it can be difficult to find your way around. To make sure there aren't a lot of confused people walking around the pit area, you'll be assigned a helper to take you to and from the cars.
I am "picked up" and taken to my waiting position by the car. Along the way, I pass a lot of interesting cars. These include a Nissan GTR and a Corvette Z06.
There is a speaker who keeps the atmosphere going and encourages the audience to buy co-driver tours so that they can get some money in the box and thereby give as much money as possible to the Danish Red Cross.
The announcer announces that Nicolas Kiesa has reached a top speed of 277km/h in his Lamborghini Huracán.
So – here we go! A McLaren 650S with McLaren Formula 1 driver Kevin Magnussen rolls around the corner. The butterflies are really starting to fly around in my stomach.
The door opens by going sideways into the air. Nice detail.
I get into the car. I'm tall and slim and yet I feel like I can barely sit in the bowl seat. I am being strapped in.
The combination of the tight seat and the harness makes me feel secure in a comfortable way.
I look around the alcantara fabric-lined cabin. It's super delicious. This is my first time in a McLaren. Of course, it's also the first time I'm sitting in a car where the driver is a real Formula 1 driver.
The door closes and we slowly roll out of the pit. Kevin Magnussen tells me to hold on to the video camera extra tight (he knows what's waiting for me in a few seconds…).
Kevin Magnussen stops at the exit. He wants the car in front of us to have a good lead, as we are in one of the fastest cars of the day.
Then it happens. The accelerator is hammered down, the car spins and the rear wheels move slightly sideways as we drive forward.
Slowly I'm starting to realize that this is going to be a unique and wild trip.
All the wheels get a firm grip on the ground again and now the speed increases at a pace that makes airplanes seem slow just before they are about to take off from the ground.
Fortunately, we remain on the ground while the speed is constantly increasing. Among other things, we will drive through a narrowing that will make most people close their eyes in fear. But there's no time for that as the car just keeps accelerating.
We approach a 90 degree right turn and brake hard. From high speed to low speed in just a few meters. Impressive vehicle!
After a 180 degree left turn at the refueling area shortly after and then a 90 degree right turn, we continue with wild acceleration up to the roundabout.
Instead of a normal 180-degree turn, they have made a roundabout part of the track in Roskilde. This gives the opportunity to drift to those of the racers who have mastered this.
Kevin Magnussen proves he's 110% in control of this McLaren 650S. Not only is he fast, but he also drifts around the corner, much to my surprise. He's a wild 22-year-old boy!
After the roundabout, we enter a straight with two soft corners that lead all the way down to the pit area, where you can pit or continue around the track.
If there's a speed record to be set, now is the time!
I don't have time to look at the speedometer, but it's going fast – really fast!
We are approaching the pit area. As it is the first round of two, we make a 180-degree left turn.
We quickly catch up with a Toyota GT86, which unfortunately looks a bit slow when you're sitting in this speed rocket!
We overtake the Toyota and continue at high speed again.
Kevin Magnussen of course drifts again in the roundabout, which is super fun and then it's full speed down the long straight.
We are not only approaching the pits, but we are also approaching the car that we started by giving a huge lead before we went out on track.
We drive into the pit, where the car is stopped. I say thank you for the ride and get out and the next person gets in and then Kevin Magnussen continues onto the track.
Kevin Magnussen drove almost non-stop throughout the weekend and was clearly the star of the event.
I first stay back in the pit area, where I put my helmet and then stop the Endomondo app.
It usually takes a few minutes to calculate the data in the App. But Kevin Magnussen has not only given me a wild ride, he has also pushed the Endomondo app to the limit. Even after several hours, it had not finished raining.
I was starting to lose hope of seeing the top speed. But then suddenly, late at night, it finally finished with the result!
The car I was driving, a McLaren 650S, has a maximum speed of 329 km/h. On this closed circuit and with Kevin Magnussen behind the wheel, we reached a whopping 295.2 km/h!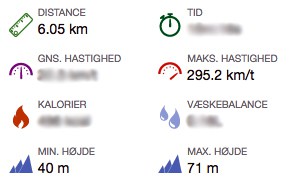 On a normal weekday, the speed limit is 60 km/h…
You can see my drive here: